What makes New Zealand 'Kiwi As'
So, you are thinking of whether you should hop across the 'ditch' to visit New Zealand? We might be a little biased, but we have gathered a few of the special things that you will find here in our little island nation…. these are the things that make us 'kiwi as!'

Food
Here in New Zealand, we are home to some of the best seafood in the world! As an island, we pride ourselves on the kai moana (seafood) available in our backyard. A kiwi classic you must try – fish and chips! Like the British but a little different, be sure to try some of our native hoki or snapper; ask what the catch of the day is when you order!
In the Bay of Plenty (where we are located), you will find an abundance of fruits and veggies that are grown throughout the year in our sunny climate. Be sure to try the kiwifruit, which is one of our biggest exports! Did you know you can try three varieties? Besides your standard green kiwifruit, we also have gold and red varieties grown in the Bay…. each one has a unique taste!
And we cannot forget the famous pavlova. Although there is some debate whether the classic dessert originated in Australia or New Zealand, we are proud of the meringue-based dish. Top with fresh fruit, and you have got yourself a classic that goes with any potluck dinner!

Lingo
You might be wondering what 'kiwi as' even means….In New Zealand, we've got our own special lingo that might be a bit different from the English you're used to hearing. 'Sweet as' is a common phrase used to express 'right on'—you'll hear this a lot from us kiwis! Jandals and togs are synonyms for sandals and swimsuits if you're hitting the beach. 'Yeah…nah' means no…. or sometimes a maybe!
Our culture is rich in Te Reo Maori (Maori language). You will commonly be greeted by a 'kia ora' which means hello, and you can say 'see ya later' with the phrase 'ma te wa'. If you're hungry, you'll be wanting to chow down on some kai. You might also be feeling lots of aroha (love) for our country when you're here. The locals are friendly, they will treat you as their whanau (family) so don't be shy to ask how to pronounce our local town and city names!​​​​​​​

Wildlife
We are home to some unique wildlife here in Aotearoa—we have been an isolated island nation for thousands of years, which in turn has led to the development of species found only here! You can also forget all the deadly snakes, bears, and mountain lions—We have very few dangerous species of wildlife, meaning you can go on that bush walk with a little peace of mind.
You'll definitely want to go birdwatching while you're here, as New Zealand has a diverse and unique population of the species. Try to hear the songs of the tui, fantail, and the morepork—when you hike through the bush, you'll more than likely hear some of these creatures. If you're in the South Island, you'll want to watch out for the kea—a cheeky alpine parrot that has been known to steal food and the rubber off your car! If you're wanting to see our national icon in the wild, you'll need to go to some of our protected forests for a guided night walk—kiwis are nocturnal and reclusive birds, so seeing one in the wild is a real treat!
Our oceans are also home to migrating populations of whales, dolphins, and orcas. Kaikoura and the Bay of Plenty are great spots that offer boat tours and even the chance to swim with dolphins in the wild--we can even hook you up with a backpacker discount here at Wanderlust NZ!​​​​​​​

Culture &Lifestyle
Aotearoa means 'land of the long white cloud'; we are a land that is rich in native Maori culture, along with being a country which welcomes thousands of immigrants from around the world! There are many experiences you can take part of that will introduce you to the Maori culture—Tamaki Maori Village located in Rotorua is a guest favorite. You will be introduced to arts of the Maori culture, such as poi and the haka, and you will even get to try a traditional hangi, a traditional roast that is cooked underground.
The lifestyle in New Zealand is a big draw for many; we balance our work life with equal (if not more play). You can finish work in the afternoon and hit the beach for an epic surf after! In winter it is even possible to swim in the ocean in the morning and hit the ski slopes in the afternoon! We are a country that loves road trips—so many great destinations are only a couple hours' drive away! You'll find that many kiwis have a laidback, 'no worries' attitude on life. It's something that we take great pride in because after all, why sweat the small things in life when you are in a beautiful place like New Zealand!
We look forward to welcoming you to our Tauranga accommodation on the waterfront.

(Image: Tamaki Maori Village Rotorua, NZ)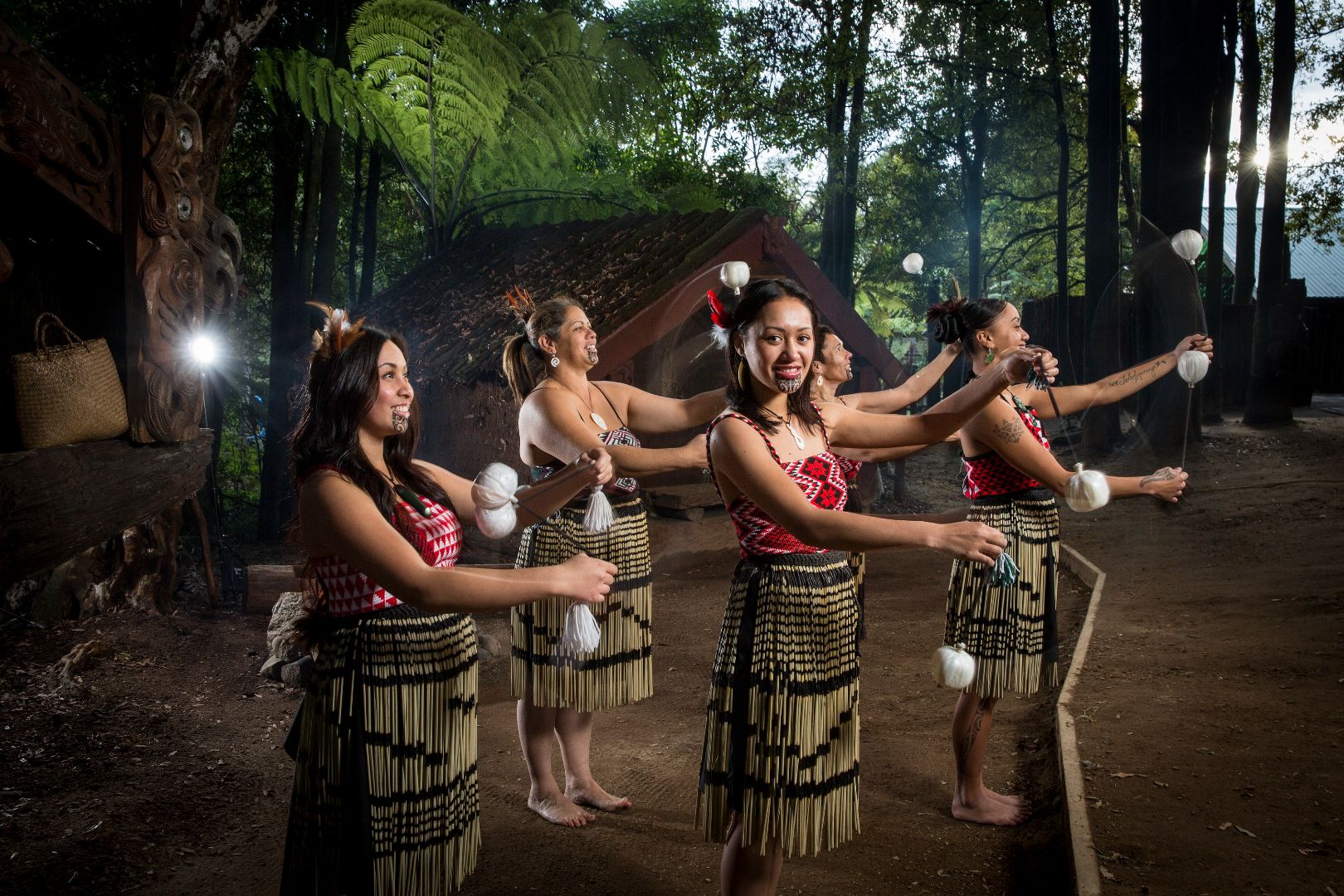 back to top