Our Story
We will take you on a wander through ocean (Moana) to land and sky (Rangi) along our sustainable path. Stay and make our destination part of your journey too. You will come as strangers and leave as Whanau (our tribe), that's the Wanderlust way…
Wanderlust NZ, the iconic waterfront accommodation where the interior will take you on an adventure from ocean to land. Keeping its characteristic features and having historical images of the building on display will give you an insight on the history and story of the place.

Art & Murals
Walking up the grand original staircase, you will come across some of Erika Pearce's beautiful signature artwork. Erika is a well-traveled and beautifully talented artist from Auckland and tells the story of Wanderlust throughout her artwork all around the hostel.
As our surrounding waters are very important to us, Erika's ocean inspired murals brings the majestic ocean feeling right into our backpackers. From Moana (ocean) via Tangaroa (sea god) to Whenua (mother earth) all the way up to Rangi (the sky). Its impossible to ignore the beauty and it's important message behind it.

In her art you will also see lots of strong women inspired pieces. As we believe it's the people making the hostel, "He tangata, he tangata, he tangata!", we have implemented this with Erika's art throughout the backpackers too. It's people, it's people, 'it's people!"

Our Promise: To offer the best accommodation experience in New Zealand, making our home your home, connecting people to place guests by offering a safe and fun environment to set base and strive to minimise harm to our planet in all that we do. Our vibe is your tribe.
Our Vision: To be known in NZ as an iconic, award winning and eco-friendly accommodation where you feel welcome no matter where you are from. We share a love of travel and adventure, and want to take the best care possible of our people and environment.
*****
"He aha te imea miokao?
He tangata, he tangata, he tangata!"

"What's the most important thing in the world?
It's people, it's people, 'it's people!"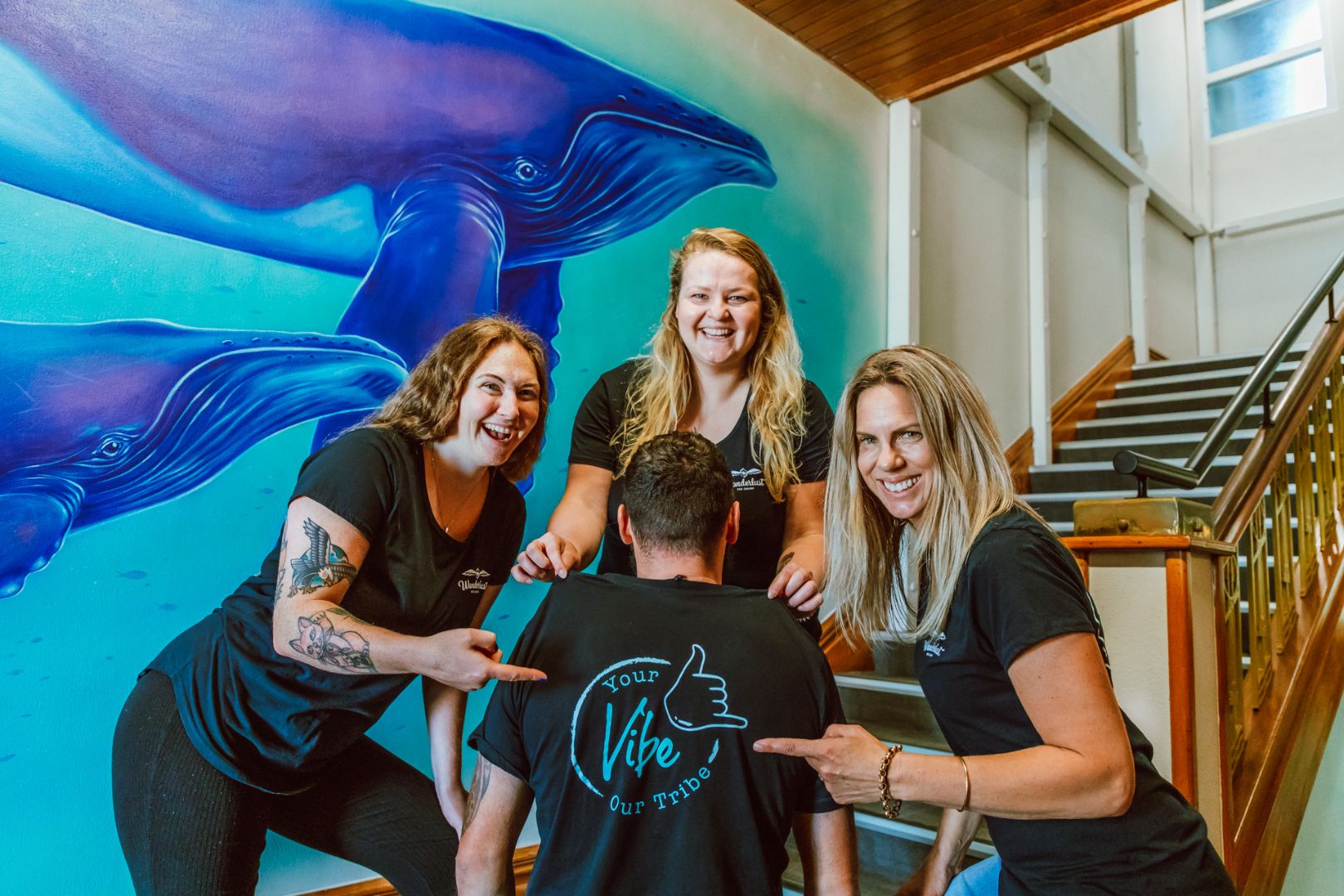 Great place to stay chill vibes friendly staff. Clean tidy rooms, excellent kitchen facilities.
- Trip Advisor Review -
Great vibe, wicked facilities, very clean and the staff are super friendly and helpful. Really enjoyed our stay here. Fully recommend for other travellers while they explore Tauranga!
- Trip Advisor Review -
What an amazing place with such an amazing view. The staff are so friendly and kind. The kitchen is right on the balcony and its breath taking. When ever you travel anywhere you find one place that is your new home. This is definitely mine :)
- Google Review -
back to top