What to do on a rainy day in Tauranga?
With the weather starting to get colder and wetter as the days go by, we thought we'd comprise a list of things nearby that can keep you entertained on a rainy day in Tauranga. In a new town there no excuse to be bored, there is always something new and exciting to discover! Head off by yourself or grab a mate from the hostel to keep you company....
Check these ideas out!
Art Gallery
The Tauranga Art Gallery is super central to the hostel, in fact most of you will have walked right past it when departing your intercity bus. The art gallery is free for New Zealand citizens and $7 for international guests and they change their exhibitions every few months.
Event Cinemas Tauranga
Located just a short walk from the hostel is Event Cinemas which is reasonably priced at $12 a ticket. So if you're wanting to sit back and relax with a bucket of popcorn, check their website for session times and wander over.
Escape Room Tauranga
Just a five minute walk away from the hostel is the home of New Zealand's only 90 minute escape rooms. There are many different themed rooms like Harry Potter, Lord of the Rings, Alice In Wonderland and even a Psycho Motel. Prices range from $35-$40 per person and are on the cheaper end if you have more people so grab some new friends from the hostel and make your way there.
Tenpin Tauranga
If you're feeling competitive head down to tenpin Tauranga for some bowling or laser tag. It's reasonably priced at $15 for one game or $23 for two, with laser tag starting at $13.50 a game and it's just a short bus ride away!
Bayfair – Mount Maunganui
For those of you who have a bit of cash to spend Bayfair is the main shopping mall in Mount Maunganui. There are 140 shops and there's also an arcade with games starting from $2. Guaranteed fun, lots of laughs and best of all you can win some prizes! Catch the 2B or 2W bus to go straight there.
Hot Pools – Mount Maunganui
It's raining so you're already wet, but how about turning a miserable day into a relaxing one at the Mount Hot Pools? The hot pools sit at an average temperature of 38-39 degrees Celsius with a cooler pool that stays at a temperature of 31 degrees. If you really want to spoil yourself they have massage and private pool packages too. . Ask at reception for the "backpacker special" deal.
Rocktopia – Mount Maunganui
A super fun indoor climbing wall which is very easy to use, just clip onto the harness and climb one of the many themed walls, then jump off and start again. Clip n' Climb offers 26 climbing challenges and prices are $20 per person.
Buses run regularly to Mount Maunganui and are $1.70 each way.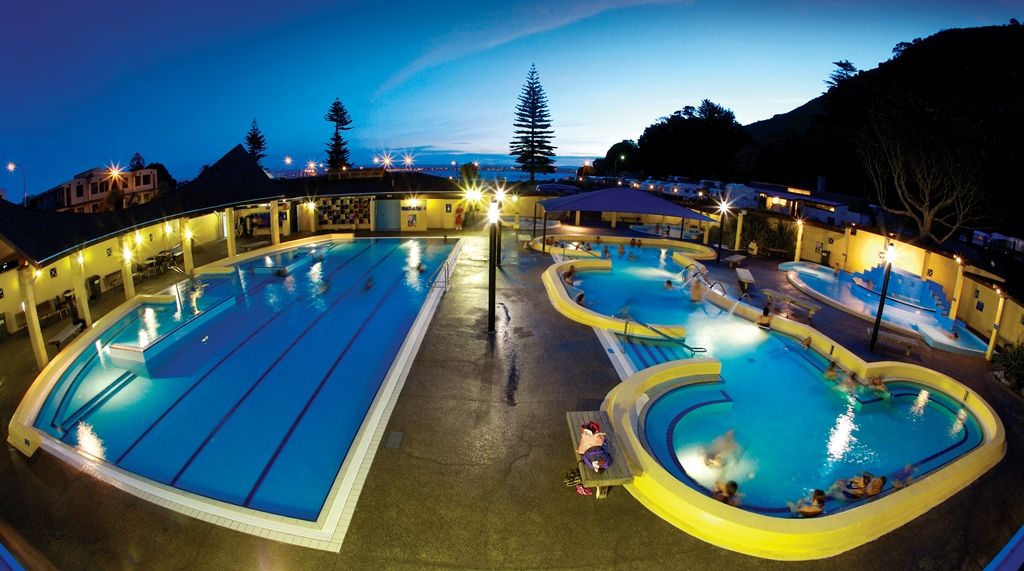 back to top