Pinnacles hike
Hey there, adventurous backpacker traveller!
Looking for an unforgettable hiking experience in New Zealand? Look no further than the Kauaeranga Kauri Trail, also known as the Pinnacles Hike. This is one of the best overnight walks the country has to offer, and trust me, you won't be disappointed!
Located in the breath-taking Coromandel region, the trail is just a little over a 2-hour drive from Tauranga. You have the flexibility to make it a day trip or extend your journey by spending a night or two at the Pinnacles Hut, situated at the top. Remember to book the hut in advance to secure your spot!
Now, picture this: reaching the summit at an impressive 759m altitude, you'll be rewarded with 360-degree views that will leave you speechless. It's no wonder this hike is so renowned! But brace yourself, as it falls under the intermediate to difficult category, offering you a challenge that's worth every step.
If you're a fan of stairs, you're in for a treat! This trail is decked with plenty of them, along with 90-degree metal ladders and swing bridges, adding a thrill to your journey. Trust me; the uphill struggle will be worth it, and the sense of accomplishment at the end will be unmatched.
Oh, and if you're into history, don't miss out on the visitor center in Kauaeranga Valley on your way to the Pinnacles Hike's base. There, you can dive into captivating displays and a short clip about the valley's intriguing history and the track.
Now, let's talk logistics: the estimated time for the hike is around 3-3.5 hours, covering a distance of 6 kilometres (one way). To fully enjoy the views and make the most of this remarkable adventure, plan for a return journey of 7-8 hours.
Ready to take on this remarkable journey? Book your spot at the 80-bed DOC hut at www.doc.govt.nz, and get ready to experience the beauty and challenge of the Kauaeranga Kauri Trail, a must-add to your backpacking bucket list. Happy hiking!
Photo: Destination Coromandel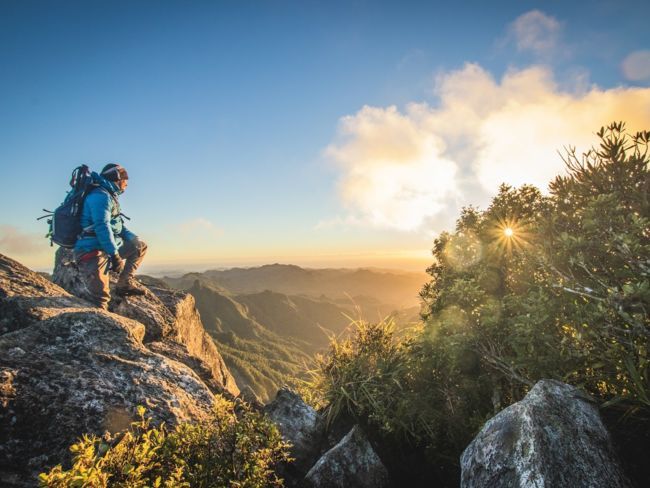 back to top